Wildlife organizations around the world play a crucial role in preserving and protecting the earth's biodiversity.
These organizations, driven by a common goal of conserving wildlife and their habitats, focus on issues such as deforestation, climate change, species extinction, and sustainability.
From global powerhouses like the World Wildlife Fund (WWF) and the International Union for Conservation of Nature (IUCN) to specialized groups like Gorilla Doctors and PAWS, these institutions work tirelessly to raise awareness, implement conservation programs, and advocate for improved policies.
Wildlife organizations often collaborate with local communities and businesses to protect habitats and develop sustainable solutions for human-wildlife coexistence.
Many organizations, such as the Nature Conservancy and Oceana, work on a global scale to combat climate change and ensure a healthier environment for both humans and wildlife.
Key Takeaways
Wildlife organizations focus on conserving habitats, promoting sustainability, and addressing climate change.
Both global and specialized groups work together to protect a wide variety of species and ecosystems.
Collaboration with local communities and businesses is essential in creating effective conservation strategies.
1. Wildlife Conservation Society (WCS)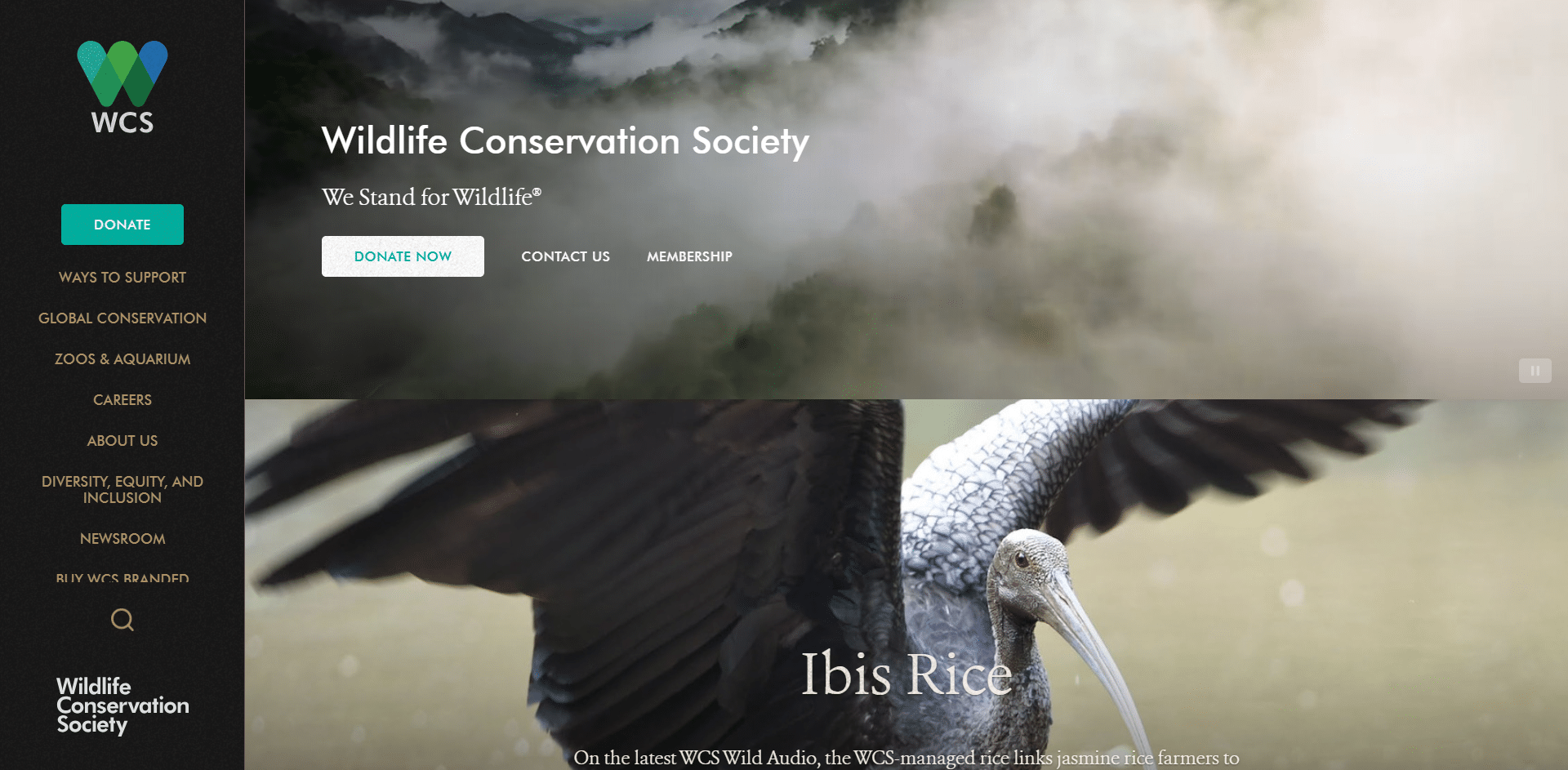 The Wildlife Conservation Society (WCS) is a global non-profit organization dedicated to preserving and protecting the world's wildlife and wild places.
Through their mission of saving wildlife and wild places worldwide using science, conservation action, education, and inspiring people to value nature, society has profoundly impacted the planet's ecosystems.
WCS was established over a century ago and currently focuses on 14 priority regions across the Americas, Africa, Asia, and Oceania.
By building strong partnerships with local communities and governments and leveraging their deep knowledge of conservation practices, WCS ensures effective action and long-lasting positive change in these regions.
You can read more about the organization's history on its About Us page.
Some of the key components of WCS's work include:
Science: WCS's innovative research and scientific endeavors provide a foundation for effective conservation programs. They gather and analyze data for evidence-based decision-making in wildlife and habitat management.
Conservation action: Implementing various on-the-ground initiatives, WCS helps safeguard endangered species, protect key habitats, and promote the sustainable use of natural resources.
Education: The society works to educate people about the importance of wildlife conservation and offers learning opportunities and resources to foster empathetic connections with nature and its inhabitants.
Inspiration: By engaging the public and raising awareness about the value of wildlife and nature, WCS aims to inspire global support and create a sustainable future for all living beings.
The WCS's 2030 Strategy is the organization's blueprint for finding smarter and more effective solutions to protect the world's wildlife, wild places, and human populations.
With a vision centered on thriving wildlife in healthy ecosystems, WCS envisions a future where societies appreciate and benefit from the integrity and diversity of life on Earth.
2. PAWS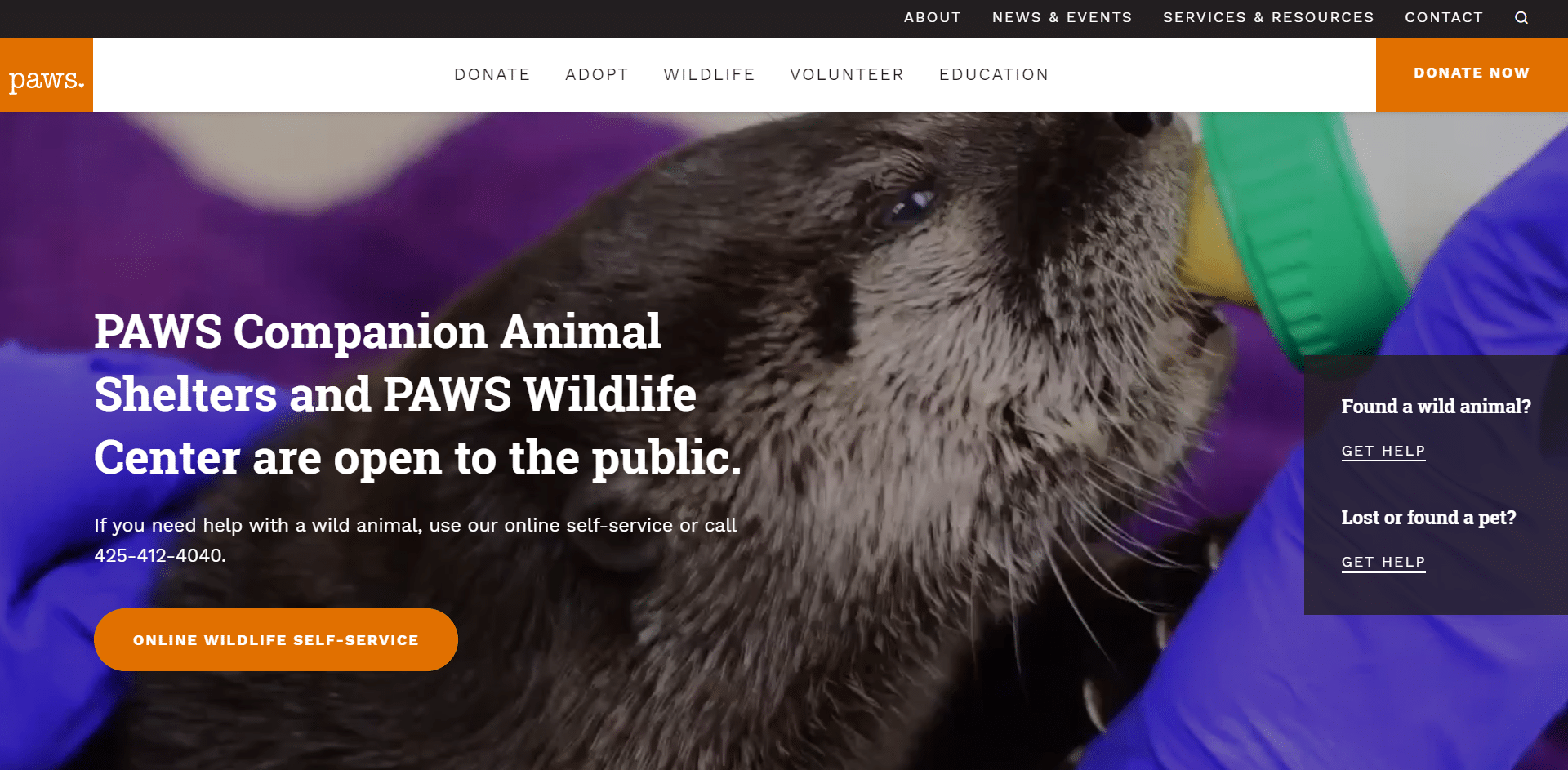 PAWS is a wildlife organization committed to bringing people together for the security and respect of animals.
They focus on several activities, such as rehabilitation, healthcare, and rescue of wild animals.
PAWS is particularly known for creating the PAWS Wildlife Center, a dedicated facility that provides medical care and rehabilitation services to injured and sick animals.
The organization's mission is to work with communities and individuals who love animals and enjoy their company.
They aim to improve the lives of animals through various initiatives and by addressing several issues like habitat loss, climate change, and plastic pollution.
Their dedication to animal welfare has made them one of the top wildlife organizations in the world.
One of the most important projects of PAWS is its wildlife rehabilitation program.
They work extensively with local wildlife centers to provide healthcare services to injured animals, ensuring their recovery and eventual release back into the wild.
PAWS also handles large-scale rescue operations, saving hundreds of animals at a time from potentially harmful environments.
To accomplish their goals, PAWS relies on dedicated volunteers and generous donors.
They use a range of outreach programs, community events, and educational initiatives to spread awareness about the importance of animal welfare and the role humans play in preserving the well-being of our planet's diverse wildlife.
3. Gorilla Doctors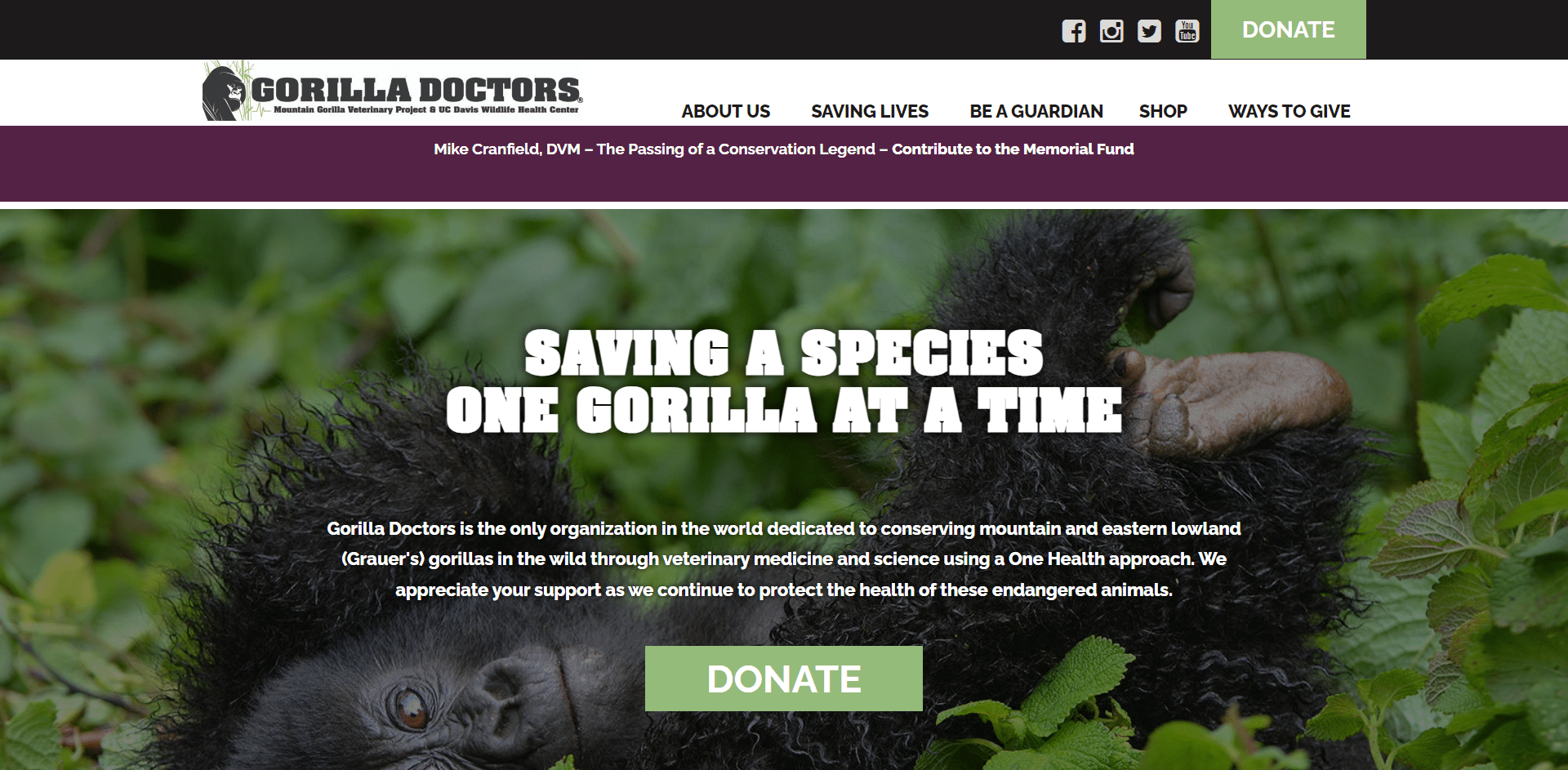 Gorilla Doctors is a unique wildlife organization focused on the conservation of mountain and eastern lowland (Grauer's) gorillas.
Their mission is driven by a team of dedicated veterinarians who provide hands-on care to these endangered species.
By employing the One Health approach, the organization seeks to ensure the well-being of gorillas and their ecosystems.
The team at Gorilla Doctors concentrates on several critical aspects of gorilla health, including disease prevention, treatment of injuries, and care for orphaned gorillas.
Mountain gorillas, in particular, face several challenges, such as habitat loss, disease, and poaching.
Gorilla Doctors play a vital role in addressing these threats and supporting the survival of these magnificent creatures.
In collaboration with partner organizations, Gorilla Doctors attend to injured or sick gorillas, performing necessary interventions such as wound care, de-snaring, and administering antibiotics.
They also train park staff and local community members on essential health monitoring skills, conduct research, and engage in outreach efforts to raise awareness and support for gorilla conservation.
With their life-saving veterinary work and One Health approach, Gorilla Doctors has positively impacted the survival of mountain gorillas, contributing significantly to their population growth in recent years.
4. Wildlife Alliance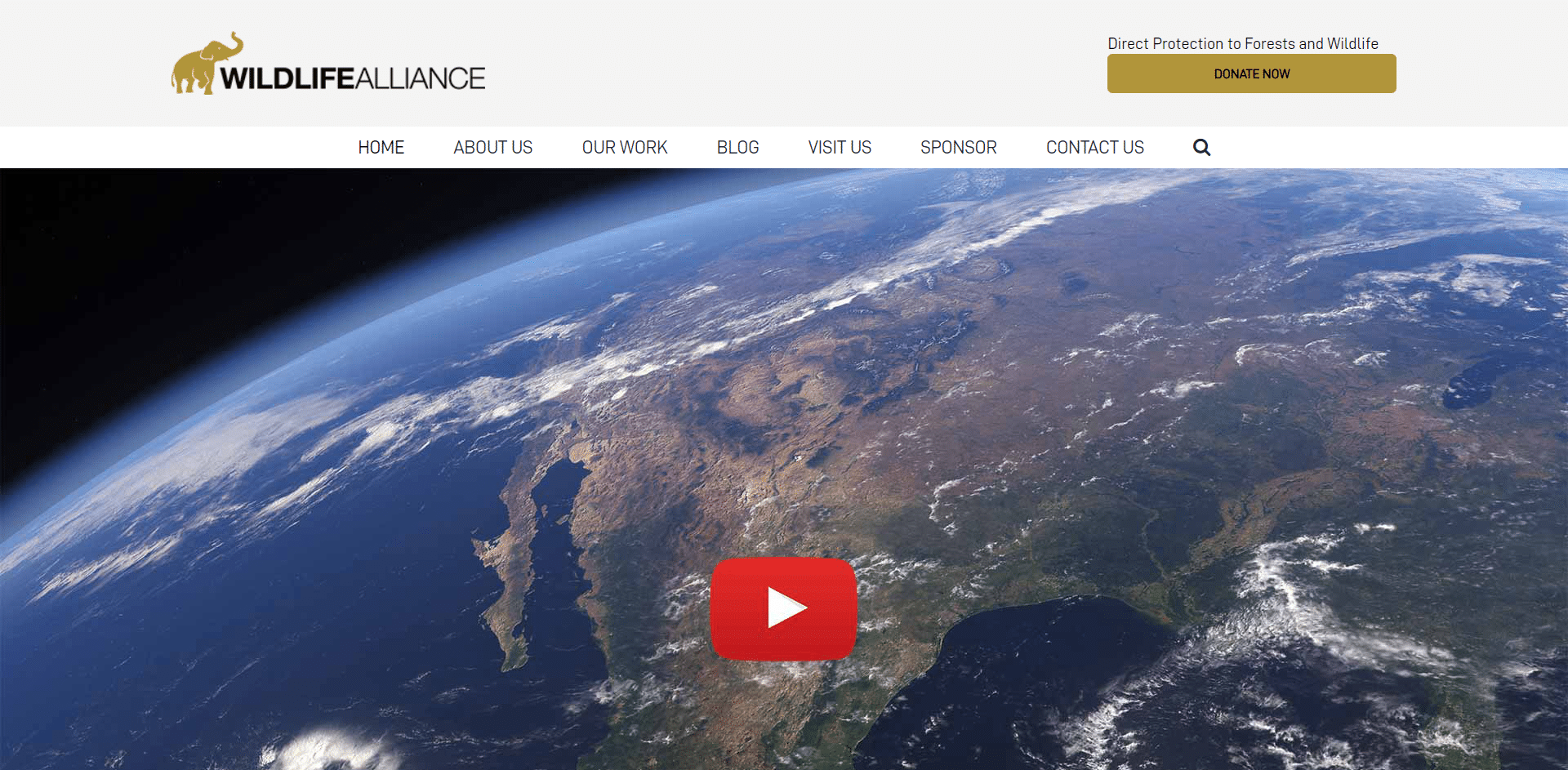 Wildlife Alliance is a prominent global organization that focuses on the conservation of endangered wildlife species and their habitats.
Established in 1995, the organization has implemented innovative conservation programs in Southeast Asia, Russia, South America, and the Western Pacific.
Renamed from the Global Survival Network (GSN) in 2006, Wildlife Alliance consists of a team of 220 experts who strive to keep Earth's temperature increase below 2°C by the year 2030.
To address the growing issues of climate change and habitat loss, the Wildlife Alliance increases vegetation cover by planting new forests and assisting in the management of protected areas on land and sea.
Their team of specialists collaborates with local communities, governments, schools, and other organizations to create long-term, sustainable solutions for the protection of biodiversity and the ecosystems on which we all depend.
A critical aspect of their work is combating the illegal wildlife trade, which poses a significant threat to many endangered species.
Wildlife Alliance works on the ground and with partners to disrupt, prevent, and dismantle illegal trading networks, conducting investigations and promoting stronger law enforcement.
This helps protect vulnerable species from poaching and ensure their survival in the wild.
Education and outreach play a vital role in Wildlife Alliance's strategy, as raising environmental awareness is essential for long-term conservation success.
The organization provides educational resources and develops programs to engage communities, enabling them better to understand the importance of wildlife conservation and environmental protection.
They also encourage responsible eco-tourism that allows visitors to appreciate the natural world while supporting conservation efforts.
In conclusion, Wildlife Alliance is a dedicated organization whose efforts encompass a wide range of initiatives aimed at preserving wildlife species and their habitats.
Wildlife Alliance effectively addresses illegal wildlife trade, habitat conservation, and environmental education to secure a sustainable future for Earth's biodiversity by collaborating with various stakeholders.
5. WWF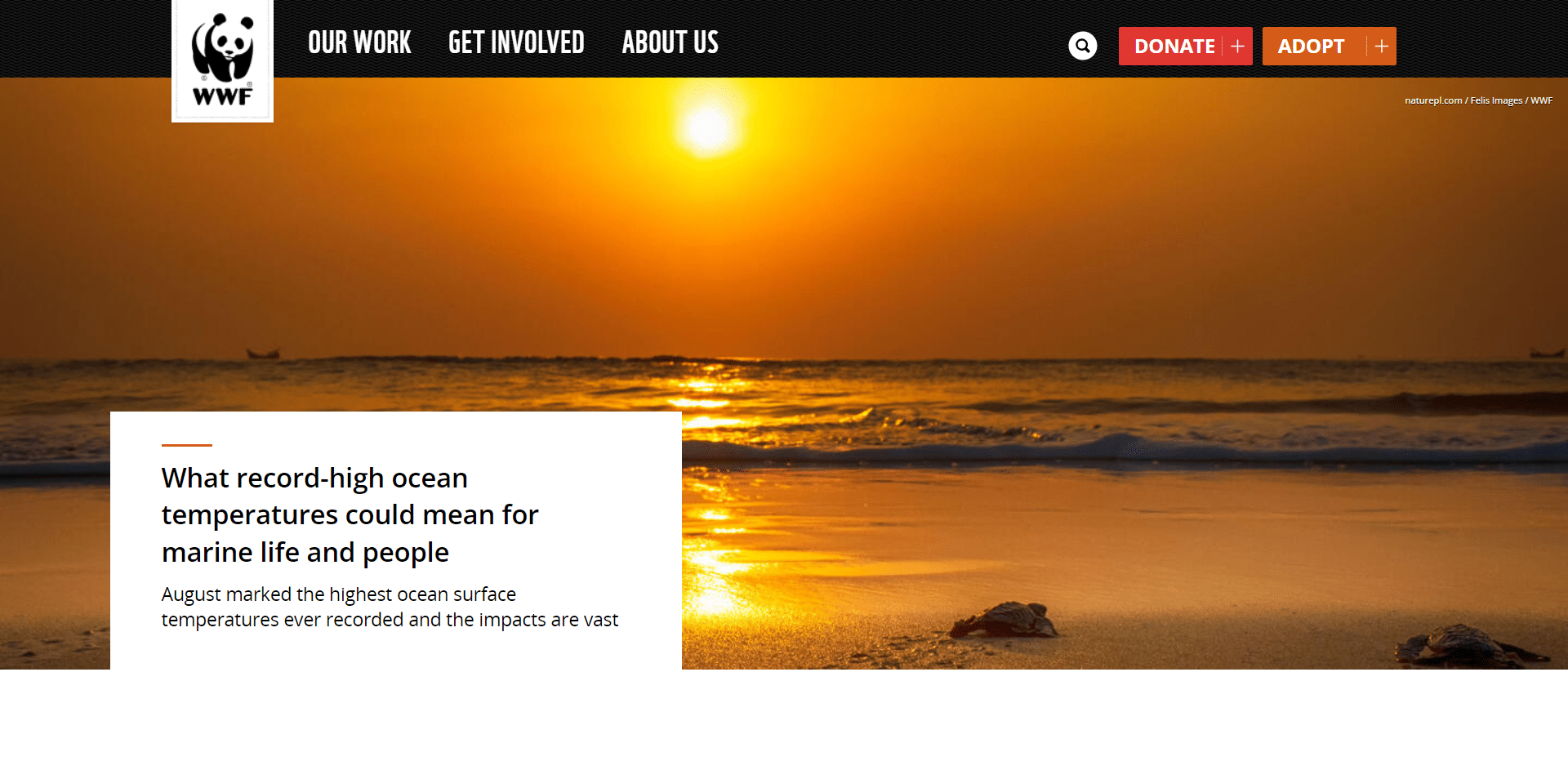 The World Wildlife Fund (WWF) is a highly respected conservation organization that operates in nearly 100 countries.
Their mission is to protect natural ecosystems and wild species while promoting sustainable development in order to preserve biodiversity on our planet.
With more than 5 million members worldwide, including 1.3 million in the United States alone, the WWF works tirelessly to connect cutting-edge conservation science with the collective power of its members and partnerships.
One of the most recognized symbols associated with the WWF is the Giant Panda.
Selected as the organization's logo in the early 1960s, the giant panda symbolizes WWF's commitment to protecting endangered species and their habitats.
The WWF has been successful in supporting the giant panda population, helping in the increase of their numbers in recent years.
Key areas of focus for the WWF include:
Protecting and restoring critical habitats such as forests, oceans, and freshwater systems
Working with communities, companies, and governments to drive sustainable solutions
Tackling climate change by pushing for the transition to clean energy and promoting sustainable agriculture
Combating illegal wildlife trade to protect threatened species
The WWF also plays a crucial role in supporting biodiversity by implementing programs and projects aimed at conserving habitats and species that are vital to maintaining a healthy and balanced ecosystem.
Their work spans across continents and ecosystems, bringing together local communities, governments, and businesses to implement strategies that help promote sustainable practices and protect the natural world.
In their continuous efforts towards sustainable development, the WWF collaborates with various multilateral and bilateral agencies, ensuring that cooperation remains strong at local, national, and international levels.
By working alongside other influential organizations and leveraging the global community's support, the WWF creates a lasting impact and contributes to advancing conservation goals.
In summary, the World Wildlife Fund serves as a crucial advocate for the protection and sustainable development of our planet's ecosystems.
Through tireless work, valuable partnerships, and the support of millions around the world, the WWF strives to preserve the biodiversity that allows both people and wildlife to thrive.
6. International Fund for Animal Welfare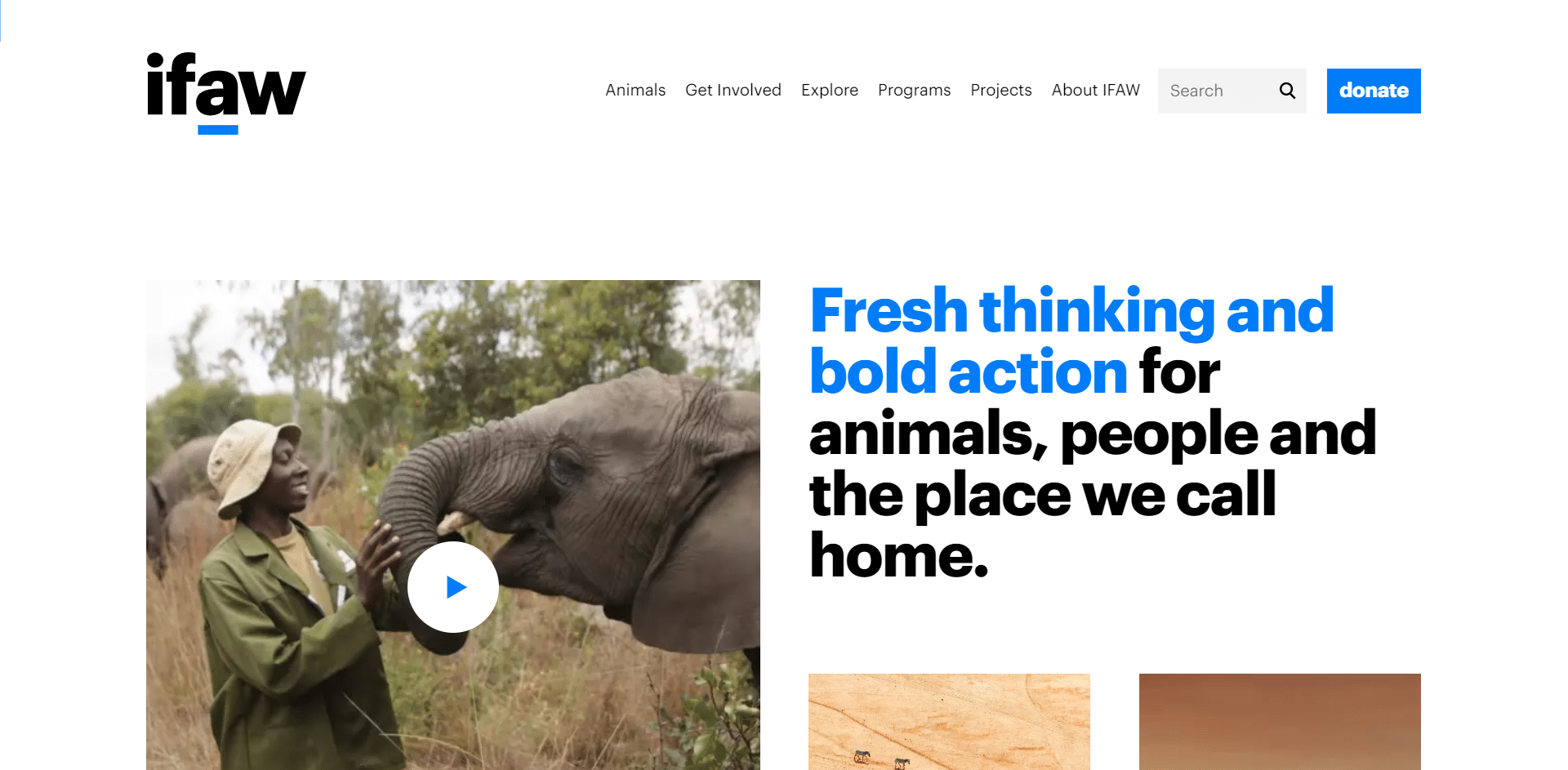 The International Fund for Animal Welfare (IFAW) is a global non-profit organization that focuses on helping animals and people thrive together.
Operating in more than 40 countries, their dedicated teams of experts work tirelessly to rescue, rehabilitate, and release animals while also restoring and protecting their natural habitats.
One of the key issues that IFAW addresses is the protection of seals.
These marine mammals are often at risk due to various forms of human interference, such as hunting, habitat destruction, and climate change.
Through its Marine Conservation Campaign, IFAW strives to ensure the safety and welfare of these vulnerable creatures.
To achieve its mission, IFAW engages in a wide range of activities, from collaborating on global agreements that safeguard wildlife and habitats to working with local communities and authorities to find innovative solutions.
By providing education and resources, IFAW helps promote awareness of the vital role that animals and ecosystems play in our lives.
As a friendly and approachable organization, the International Fund for Animal Welfare makes it easy for people to get involved in their efforts.
Through donating, volunteering, and spreading the word, anyone can contribute to the important work that IFAW does in conserving wildlife and protecting our planet's precious resources.
7. World Society for The Protection of Animals (WSPA)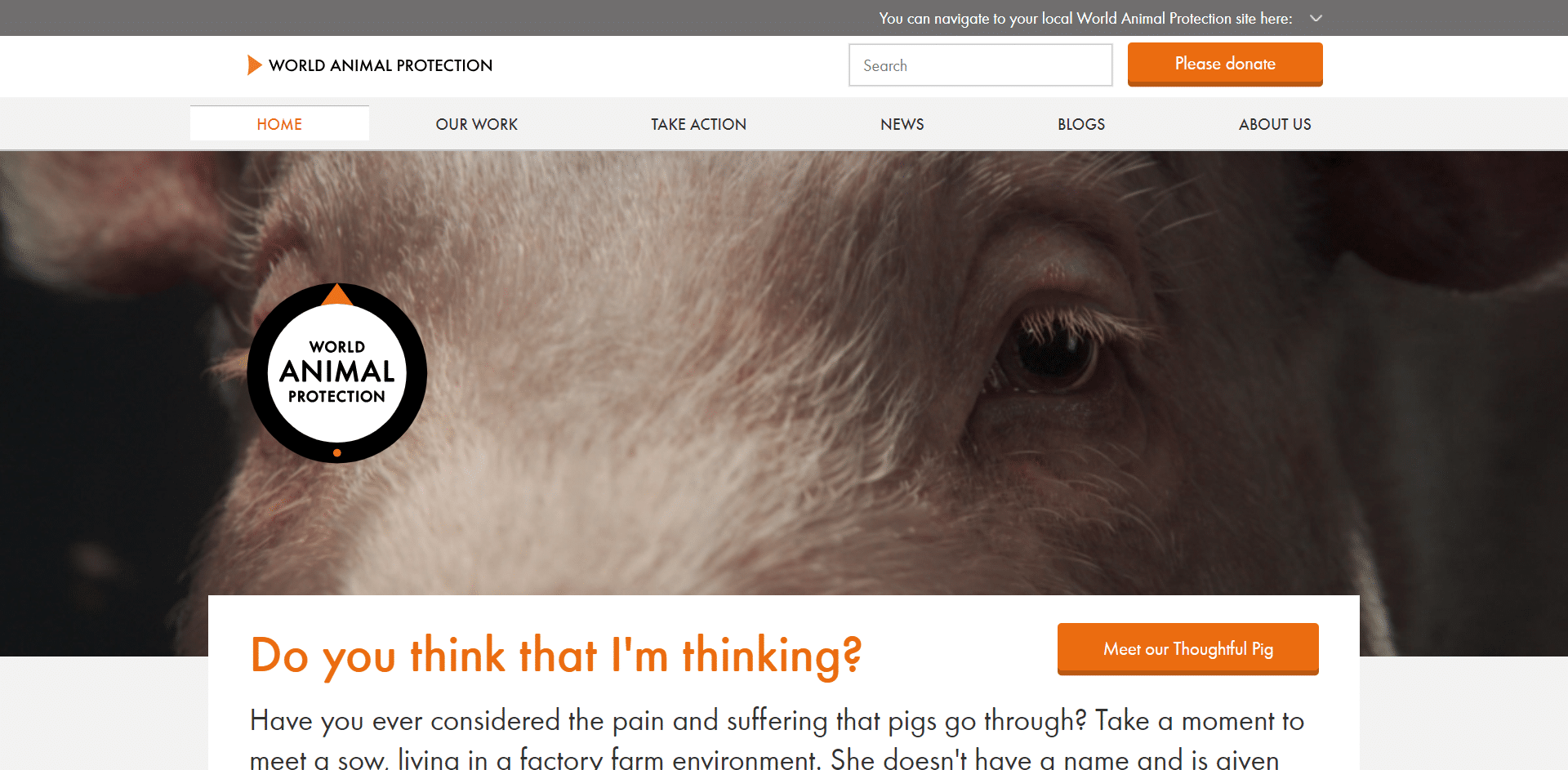 The World Society for the Protection of Animals (WSPA) is an international non-profit organization that has been working to create a better world for animals since 1981.
They focus their efforts on animal welfare, with the aim of protecting animals from suffering, exploitation, and abuse.
WSPA initially began as the merger of two organizations, the World Federation for the Protection of Animals (WFPA) and the International Society for the Protection of Animals (ISPA).
In 2014, the organization changed its name to World Animal Protection to better reflect its mission and global focus.
The organization's efforts are widespread and encompass a variety of issues affecting animals in different parts of the world.
Some of their work includes campaigning against bear bile farming, promoting animal-friendly tourism, protecting marine animals from ghost fishing gear, and implementing disaster management plans for animals in crisis.
One key strategy WSPA uses is collaborating with various stakeholders, including governments, businesses, and local communities.
Through these partnerships, they can influence policy-making, promote better animal welfare standards, and facilitate the implementation of practical solutions.
By raising public awareness and fostering a culture of empathy and compassion towards animals, the organization aims to inspire change and make a lasting impact.
Through their dedication and collaborative efforts, WSPA is playing an invaluable role in making the world a safer and kinder place for animals everywhere.
8. African Wildlife Foundation (AWF)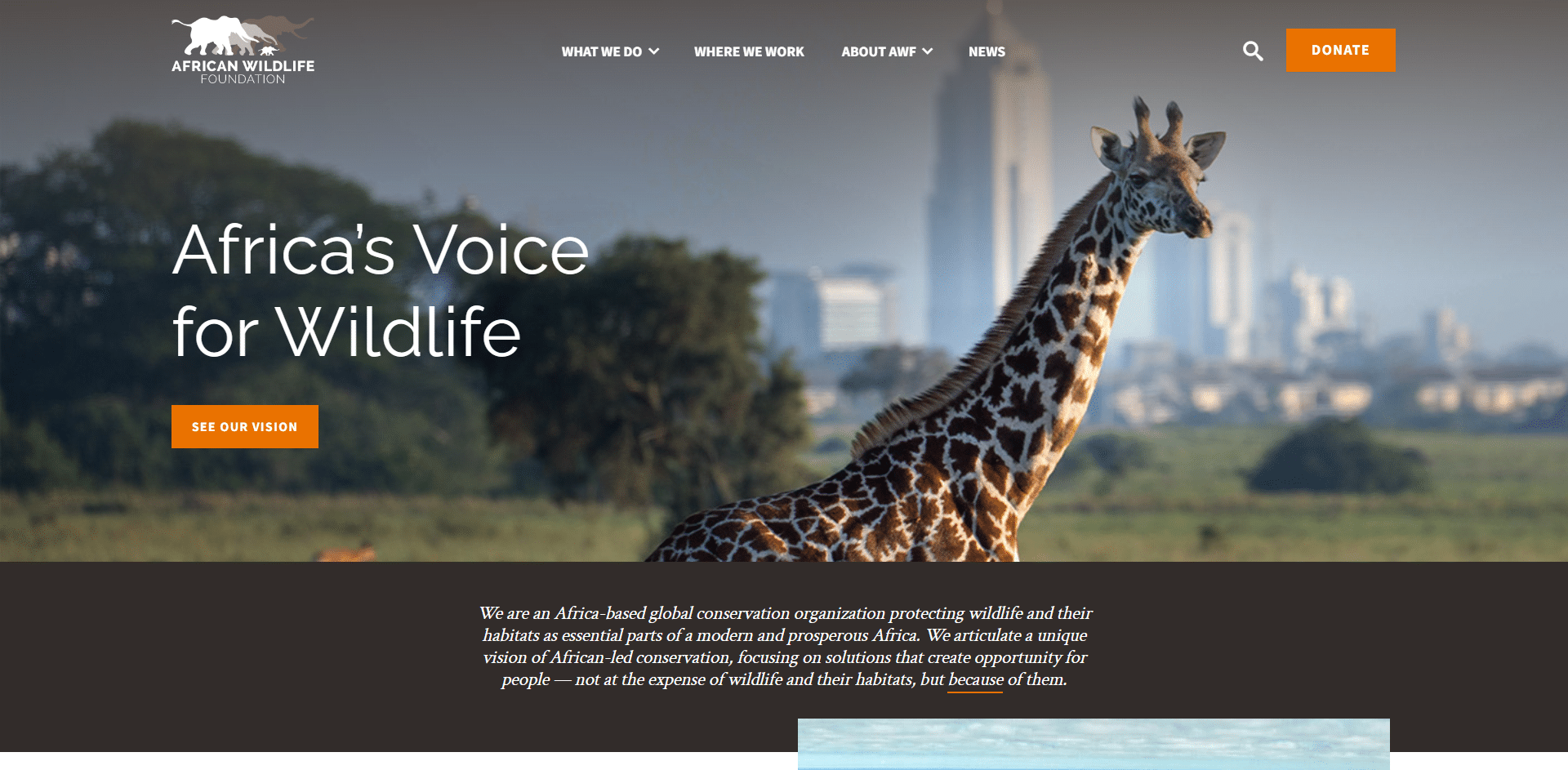 The African Wildlife Foundation (AWF) is a leading international conservation organization focused exclusively on Africa's wildlife and wild lands.
AWF is dedicated to protecting these vital natural habitats and the amazing species that live in them through sustainable conservation practices and efforts to improve local human livelihoods.
AWF's vision is to create a prosperous Africa where wildlife and people thrive together.
They aim to achieve this by finding solutions that benefit humans and wildlife, particularly in areas where human-wildlife conflict is a major concern.
By working with local communities, the foundation emphasizes the importance of protecting habitats and species for the good of the environment and the people who depend on them.
AWF focuses on some key species, including lions, elephants, and rhinos.
The organization addresses the challenges faced by these animals and their habitats, such as poaching, habitat loss, and the effects of climate change.
For instance, the African lion, the continent's second-largest living big cat, faces threats from habitat loss, human-wildlife conflict, and declining prey populations.
AWF helps to develop and implement strategies to protect these majestic animals and their habitats.
In addition to protecting individual species, the African Wildlife Foundation works to conserve many diverse ecosystems across the continent, from savannas and forests to wetlands and deserts.
These efforts help to ensure the long-term survival and prosperity of the wildlife that resides there and the human communities that call these regions home.
To further its mission, AWF offers safaris that blend outstanding wildlife viewing experiences with opportunities to learn about critical conservation issues from experts.
These unique itineraries allow participants to witness firsthand the vital work being done to conserve Africa's most incredible natural treasures.
In summary, the African Wildlife Foundation is a major force for conservation, dedicated to the protection and sustainable management of Africa's wildlife and wild lands.
Through its various initiatives, AWF strives to create a harmonious future where humans and wildlife can thrive together.
9. People for the Ethical Treatment of Animals (PETA)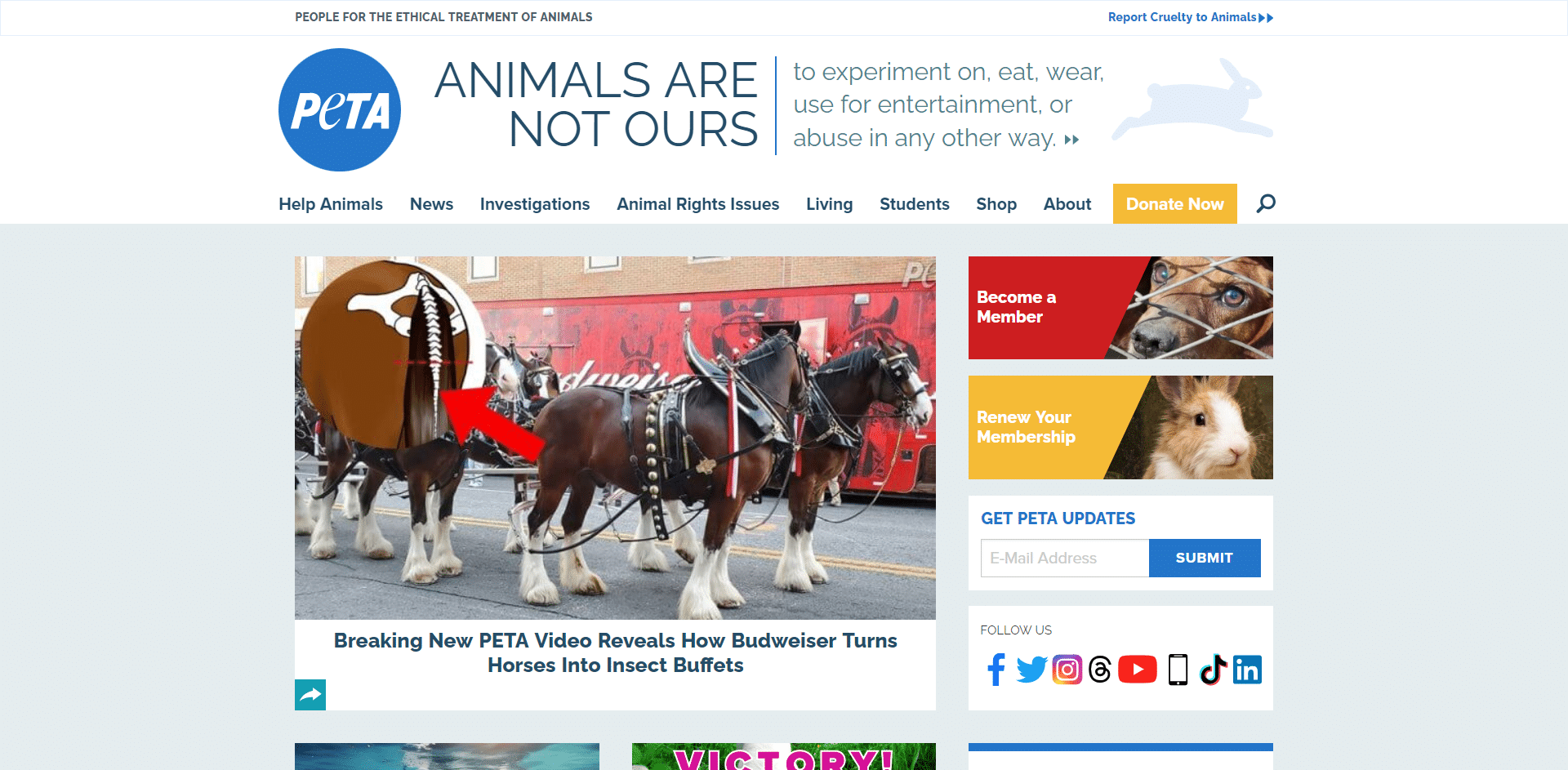 People for the Ethical Treatment of Animals (PETA) is the largest animal rights organization in the world, with over 9 million members and supporters worldwide.
Established as an international nonprofit charitable organization, PETA is headquartered in Norfolk, Virginia, with entities extending across the globe.
The primary goal of PETA is to champion animal rights by promoting the significance of their interests, regardless of their usefulness to humans.
The organization aims to end the abusive treatment of animals in industries such as food, clothing, experimentation, and entertainment.
In addition, they focus on creating awareness about adopting a cruelty-free lifestyle, emphasizing veganism, and advocating for animal-free alternatives.
PETA is known for its creative and sometimes controversial tactics designed to draw attention to animal rights issues.
These tactics can include attention-grabbing protests, provocative advertisements, and undercover investigations that reveal animal cruelty.
This approach has made PETA a powerful force against industries that exploit animals.
One of the organization's strengths is animal rescue. PETA has a long history of successfully intervening in urgent rescue situations and working towards rehabilitating abused animals.
Through dedicated volunteers and staff, PETA is able to provide a haven for many animals in need.
To sum up, People for the Ethical Treatment of Animals is a prominent wildlife organization with a global presence that focuses on the rights and welfare of animals.
Their bold approach has made them an influential advocate in their fight against animal cruelty and exploitation.
10. Animal Welfare Institute (AWI)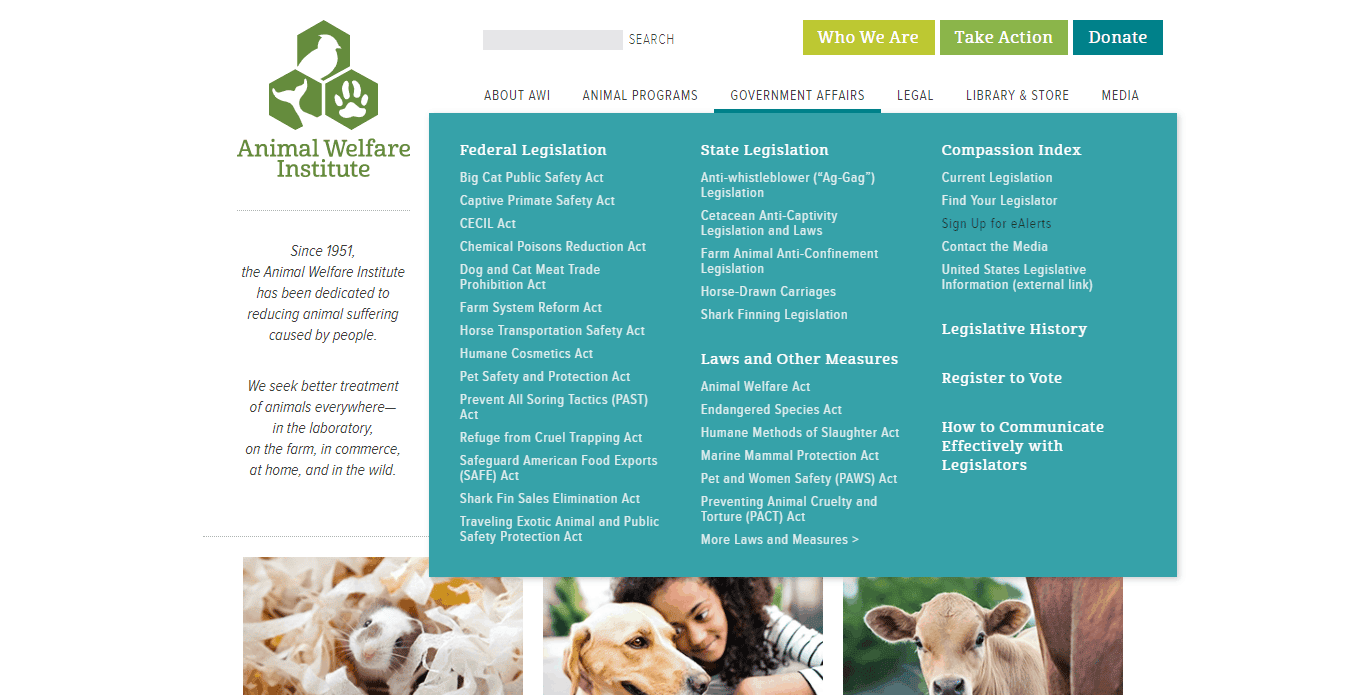 The Animal Welfare Institute (AWI) is an American non-profit organization founded in 1951 by Christine Stevens.
It aims to minimize the suffering inflicted on animals by humans and is one of the oldest animal welfare organizations in the US.
AWI focuses on improving the treatment of animals in various settings, including laboratories, farms, homes, and in the wild.
They work tirelessly to promote good animal welfare and create impactful change by developing public policies, educating the general public, and supporting animal-centered research initiatives.
The AWI logo symbolizes the organization's dedication to the protection of animals.
It represents animals in their natural land, air, and water environments, enclosed in interlocking hexagons reminiscent of bee architecture.
The institute comprises a team of professionals who work collaboratively to promote animal welfare.
They seek to create long-lasting change by working on various campaigns and collaborating with industry experts and other organizations.
Some of their work includes proposing bans on imports and exports of endangered species, reintroducing legislation to protect wildlife and pets from barbaric traps and snares, and working on international wildlife conservation initiatives.
As a friendly and passionate organization, the Animal Welfare Institute is dedicated to making our world a better place for animals everywhere.
By remaining committed to their mission, they continue to positively impact the lives of animals and the wellbeing of our planet.
11. Defenders of Wildlife (DOW)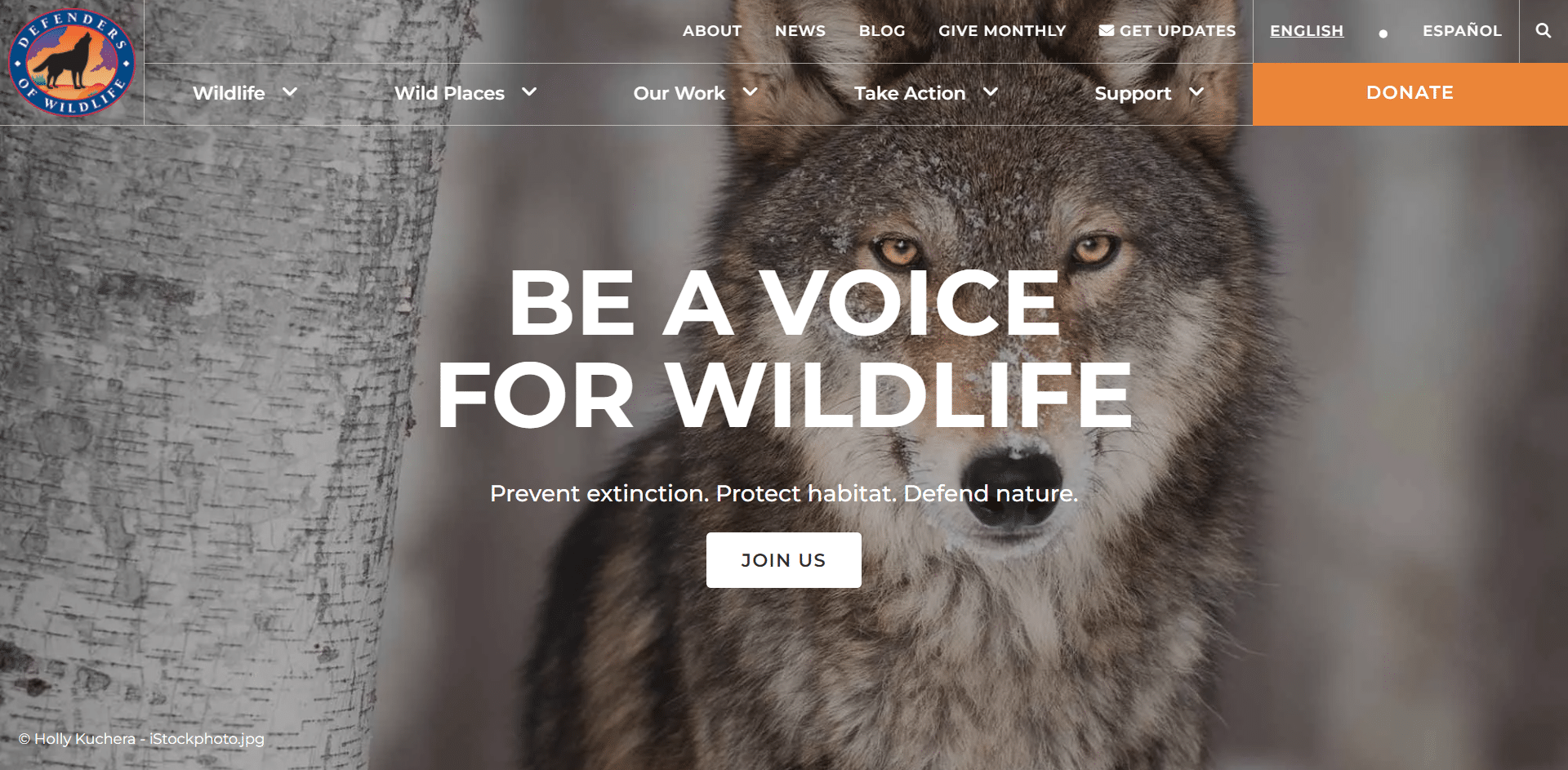 Defenders of Wildlife (DOW) is a prominent organization that strives to protect and restore imperiled wildlife and their habitats across North America.
Their efforts are carried out with a friendly and collaborative approach, working closely with various stakeholders to ensure a future for the wildlife and the wild places we all cherish.
The organization focuses on pro-wildlife legislation to address wildlife communities' pressing challenges, such as habitat loss, climate change, and human-wildlife conflicts.
By engaging with lawmakers and advocating for robust legal frameworks, DOW aims to create a more sustainable environment for wild species across the continent.
In addition to their policy work, DOW is actively involved in conservation projects on the ground.
They provide resources and expertise to help restore habitats and mitigate the effects of human intrusion on wildlife.
By partnering with other stakeholders, they can also ensure that local communities benefit from these efforts.
DOW also invests considerable effort in raising public awareness about important wildlife and conservation issues.
Their educational resources, campaigns, and outreach programs are designed to inspire and engage people from all walks of life to participate in the shared goal of preserving North America's rich biodiversity.
In summary, Defenders of Wildlife's multifaceted approach to conservation is helping to protect and restore threatened species and habitats so that future generations can continue to enjoy North America's natural beauty and ecological diversity.
12. The Nature Conservancy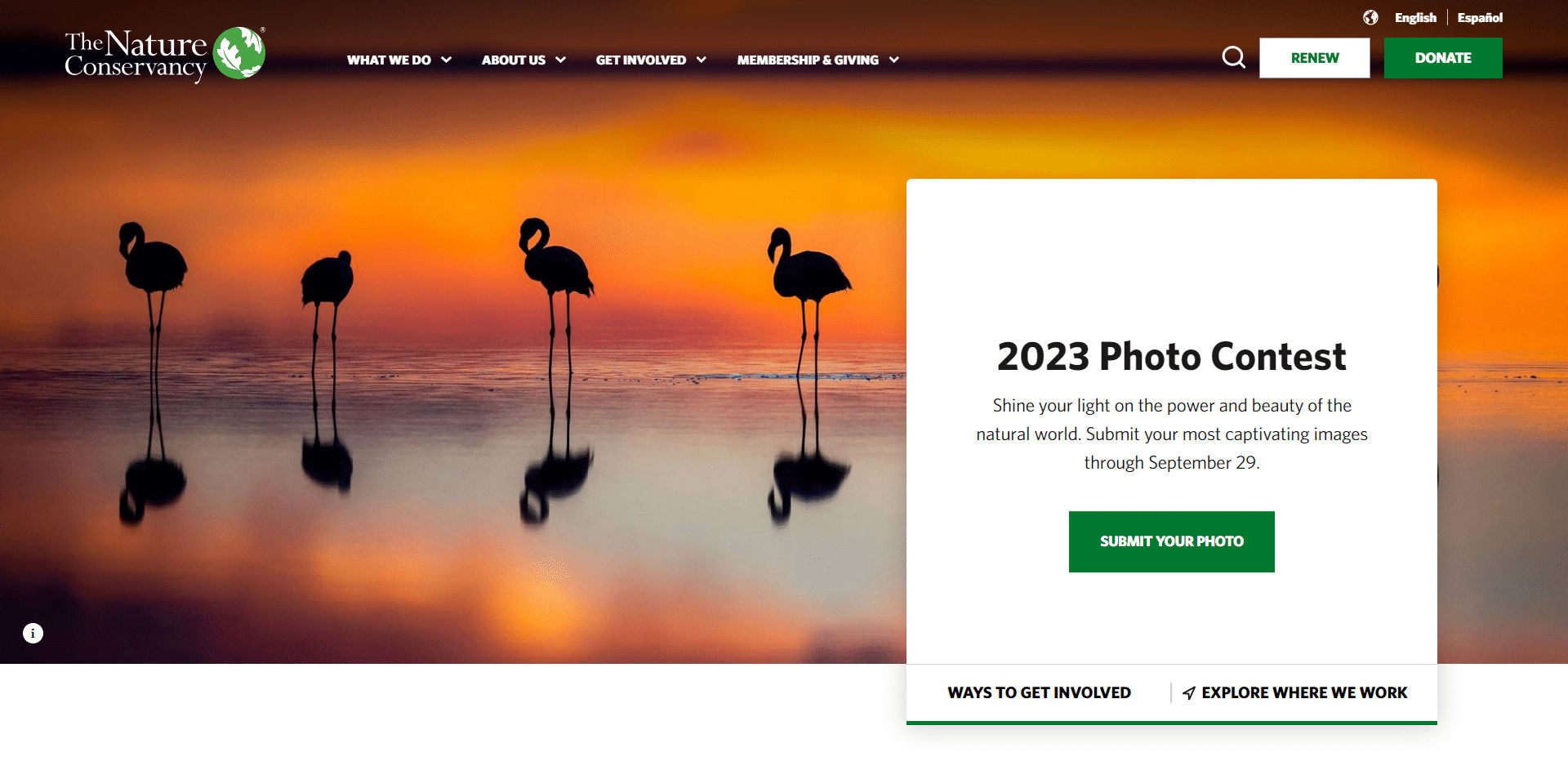 The Nature Conservancy is a global environmental nonprofit organization that aims to create a world where people and nature can thrive together.
Established in the United States in 1951, it has grown to become one of the most effective and far-reaching environmental groups worldwide.
This organization focuses on conserving lands and waters that are essential for all life forms.
Their vision is to create a world where biodiversity thrives, and people act to protect nature for its inherent value and the benefits it provides.
Their efforts are directed towards areas such as climate change, habitat conservation, and promoting sustainable practices.
The Nature Conservancy has a particular focus on addressing climate change as one of the significant challenges facing the planet today.
They work alongside local communities, businesses, and individuals to protect over 125 million acres of land globally.
By preserving biodiverse habitats through initiatives like forest conservation, grassland restoration, and sustaining marine habitats, they aim to mitigate the impacts of global warming.
In collaboration with Conservation International, the Nature Conservancy is committed to protecting endangered species and conserving their natural habitats.
Through various strategies such as land acquisitions, partnerships with local communities, and policy advocacy, they ensure the preservation of critical ecosystems and the species that rely on them.
Their approaches involve preserving pristine habitats and working with people to find sustainable solutions for long-term conservation.
They believe that conserving nature does not have to be at the expense of human well-being and progress – rather, both can coexist and thrive.
The Nature Conservancy is vital in global environmental conservation, focusing on climate change, habitat preservation, and promoting sustainable practices.
Working with local communities, businesses, and other partners, they help ensure a future where nature and people can flourish.
13. Oceana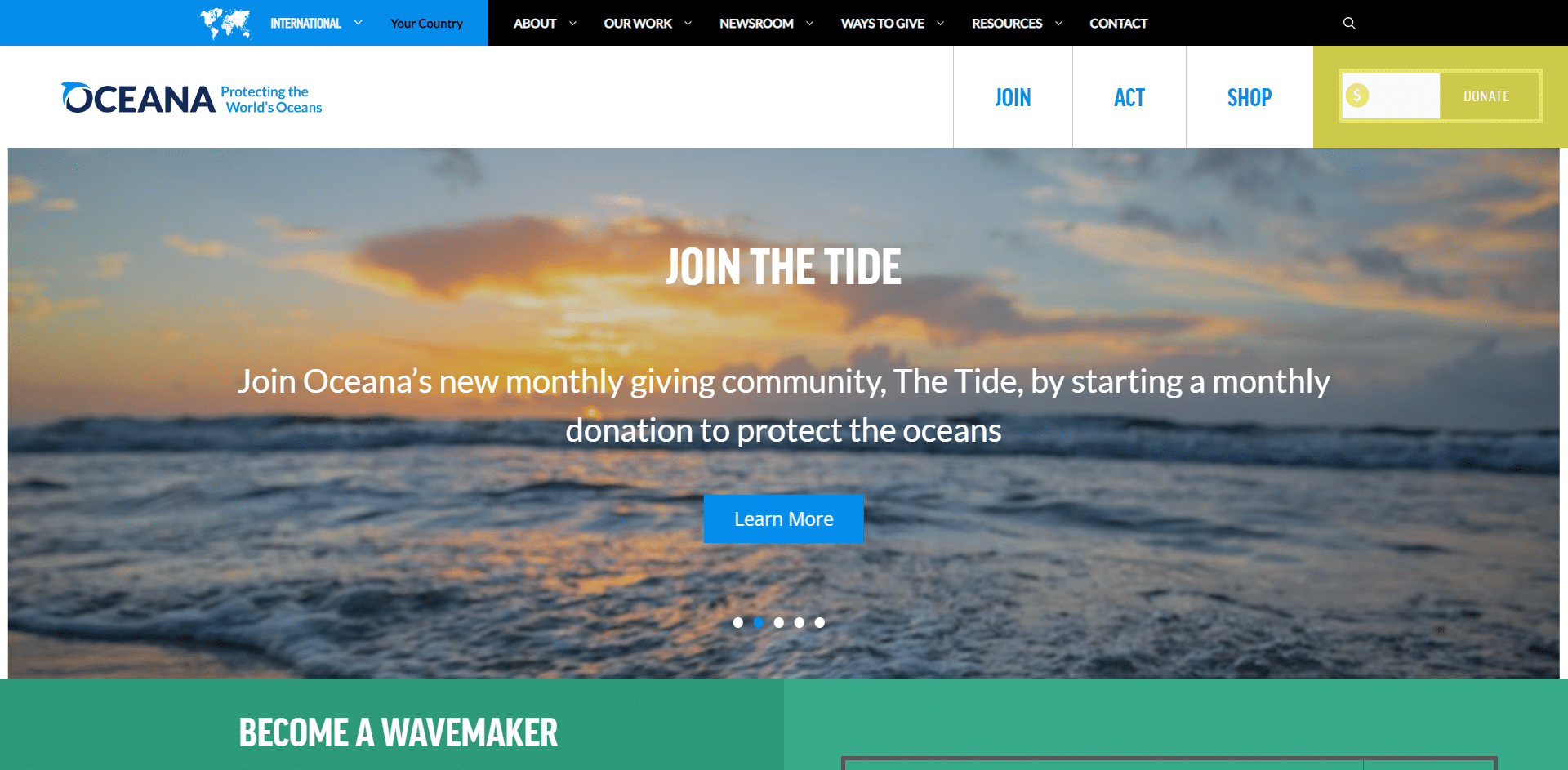 Oceana is a nonprofit ocean conservation organization, dedicated to preserving and restoring the world's oceans.
They focus on influencing specific policy decisions on the national level, aiming to protect marine wildlife such as fish, sharks, and sea turtles.
One of the primary concerns of Oceana is overfishing. They believe responsible fishing practices are essential in maintaining the health of the world's oceans.
To address this issue, they initiated the Responsible Fishing Campaign to advocate for policy changes that promote sustainable fishing practices.
Sharks are essential to the ocean ecosystem, and Oceana emphasizes their protection.
Sharks play a crucial role in maintaining balance in marine food chains, and their decline can have severe consequences on the environment.
Oceana promotes shark conservation through policy changes and raising awareness about the dangers of practices like shark finning.
Sea turtles are another important group of ocean inhabitants that require protection.
Oceana's efforts focus on reducing threats to sea turtle populations, such as habitat loss, plastic pollution, and bycatch in fishing gear.
They advocate for improved regulations to protect these endangered species.
Oceana was also involved in the aftermath of the Deepwater Horizon oil spill.
The organization worked to raise awareness of the spill's long-term impact on marine life and pushed for policies to prevent future oil-related disasters.
Their commitment to ocean health drives their continuous ocean restoration and preservation work.
14. The IUCN (International Union for Conservation of Nature)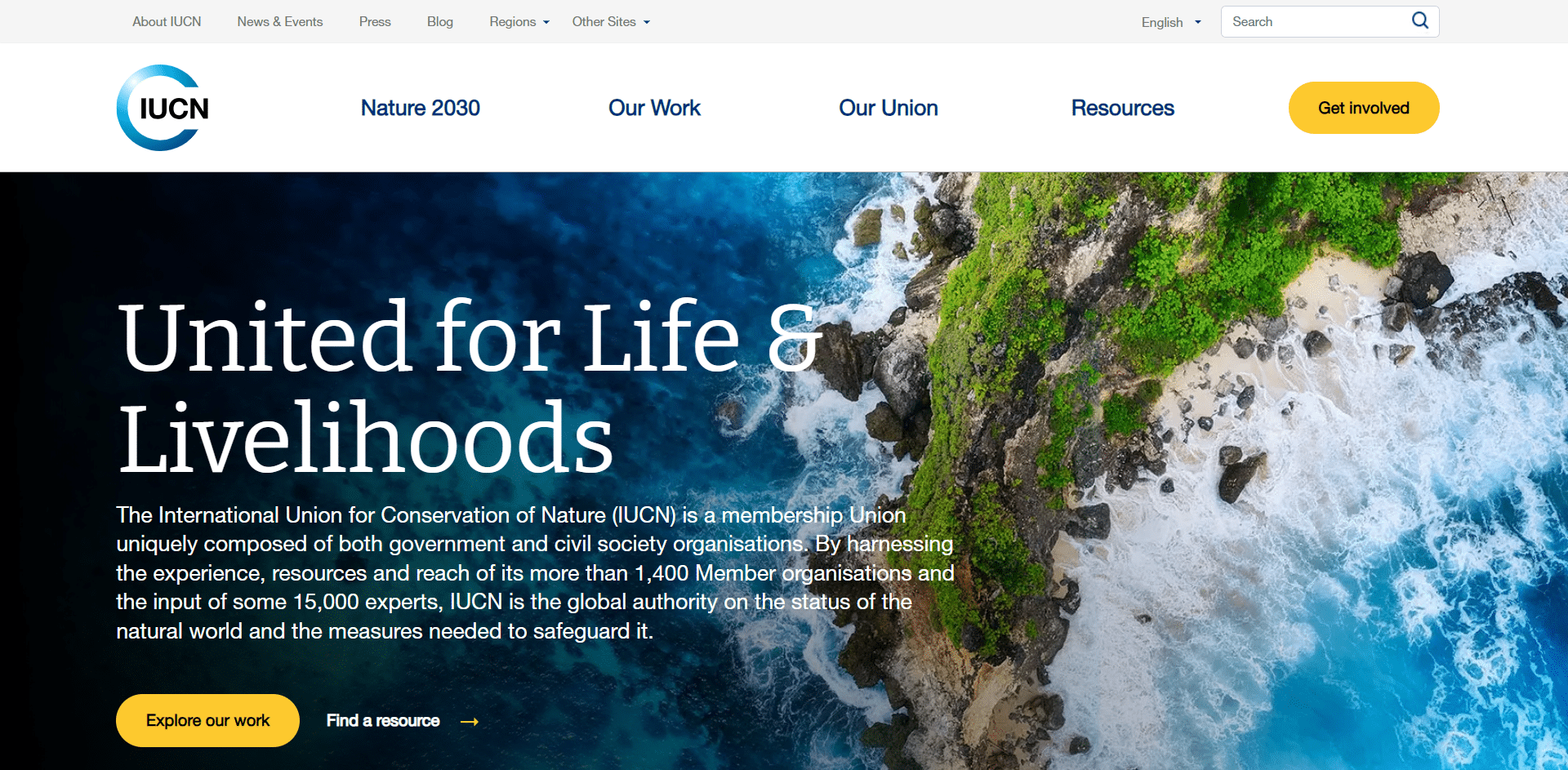 The IUCN is a unique membership union that combines government and civil society organizations to work towards nature conservation.
Bringing together public, private, and non-governmental organizations, the IUCN provides knowledge and tools required for human progress, economic development, and nature conservation simultaneously.
Established on October 5, 1948, in Fontainebleau, France, the IUCN is the first global environmental union.
It was created with a shared goal to protect nature by gathering governments and civil society organizations as its founding members.
The IUCN's conservation strategy focuses on three main objectives:
Maintaining essential ecological processes and life-support systems
Preserving genetic diversity
Ensuring sustainable utilization of species and ecosystems.
In its early years, the IUCN started with 65 members in Brussels and maintained a close association with UNESCO.
Together, they organized the 1949 Conference on Protection of Nature in Lake Success, US, and drafted the first list of gravely endangered species.
15. Charles Darwin Foundation (CDF)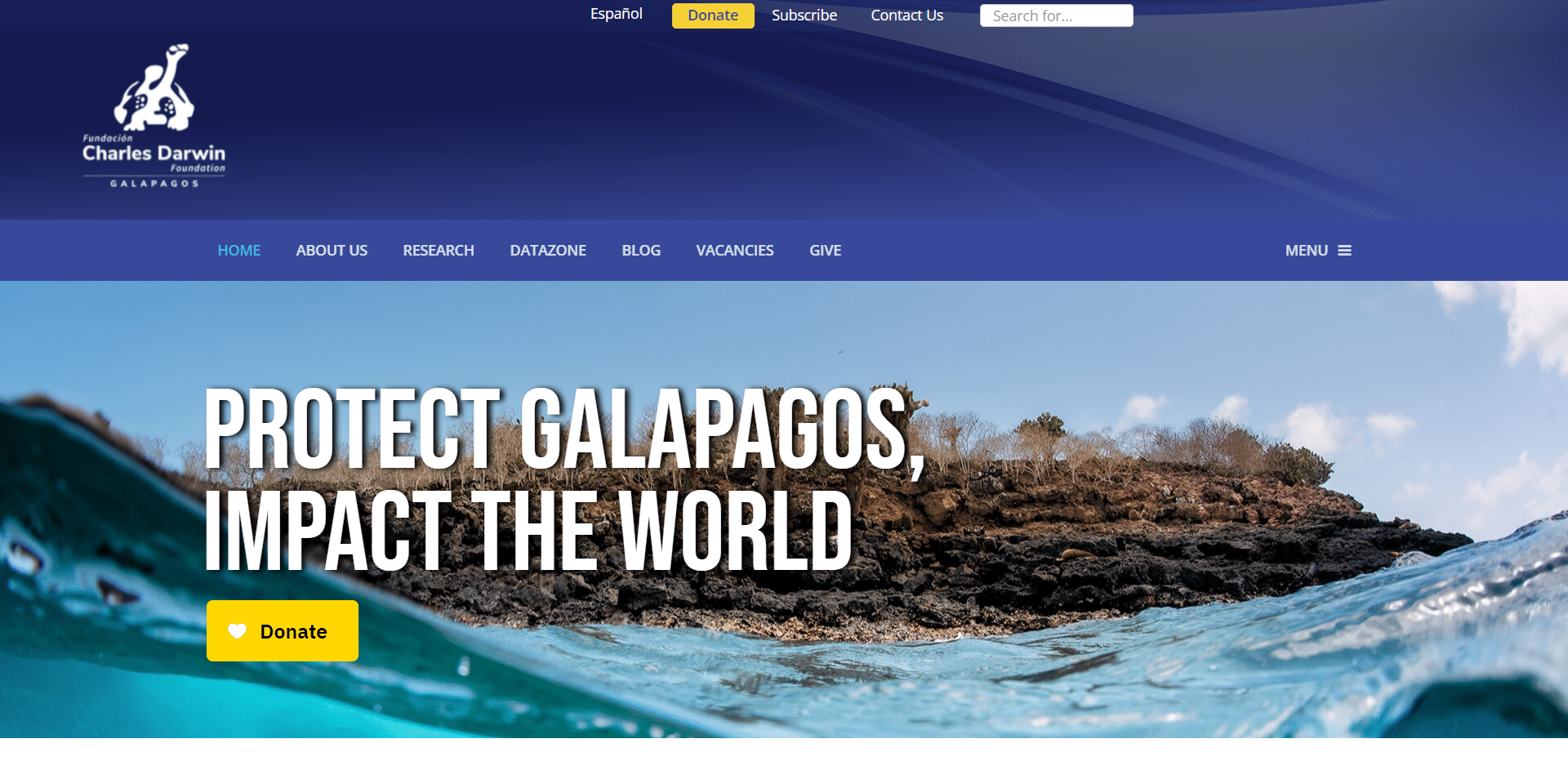 The Charles Darwin Foundation (CDF) is an international institution that focuses on research and conservation efforts in the Galapagos Islands.
It has roots firmly planted in Ecuadorian soil and provides opportunities for local residents as well as international collaboration and knowledge-sharing.
CDF is dedicated to preserving the unique species diversity found in the Galapagos Islands.
Scientific research aims to provide essential information that can be used to protect the remarkable ecosystems within the region.
The foundation works closely with the Galapagos National Park, a government institution that enforces conservation laws and regulations within the islands.
Together, they strive to maintain the rich biodiversity and support the delicate balance of the Islands' ecosystems.
Understanding the impact of human activities on the environment is essential for the CDF.
Researching and gathering data can help advise on legislation and policies to protect the environment and the species that inhabit it.
This includes working on key conservation issues such as maintaining clean air and promoting sustainable practices.
At the core of the CDF's mission is a solid foundation in science.
The research conducted by the foundation covers a wide variety of areas, including biology, ecology, and geology.
This diverse approach enables the CDF better to understand the intricate relationships between species and their environment.
Additionally, it allows the foundation to monitor the ongoing threats to natural habitats, such as climate change, invasive species, and pollution.
In summary, the Charles Darwin Foundation is vital in research and conservation efforts in the Galapagos Islands.
It continually works to ensure that the unique species diversity and ecosystems are protected for future generations through collaboration, legislation, and a strong foundation in science.
Conclusion
Wildlife organizations play a crucial role in preserving our planet's natural resources, maintaining ecological balance, and fostering sustainable development for future generations.
They actively engage in conservation efforts, education, scientific research, and social mobilization to ensure people's and wildlife's well-being.
Notable organizations such as the World Organization for Animal Health (OIE) and the Wildlife Conservation Society have dedicated themselves to improving animal health and protecting endangered species around the globe.
These organizations aim to promote awareness, implement effective strategies, and create lasting change by working with local communities, governments, and other stakeholders.
In an era where human activities increasingly threaten wildlife and their ecosystems, the importance of supporting these organizations cannot be understated.
As responsible global citizens, we must recognize the value of biodiversity and strive to protect it alongside our fellow living beings.
Through collaborative efforts, innovative solutions, and continued vigilance, we can ensure a healthy planet for generations to come.