Bird houses are more than just garden decorations. They provide safe havens for our feathered friends.
In this review, we explore Kingsyard's birdhouses, designed to attract different bird species.
Whether you love bluebirds, wrens, or chickadees, Kingsyard has a house for you.
Let's dive into the features of these birdhouses, making bird-watching more interesting and your garden a haven for birds.
1. Kingsyard Wooden Bluebird House $25.99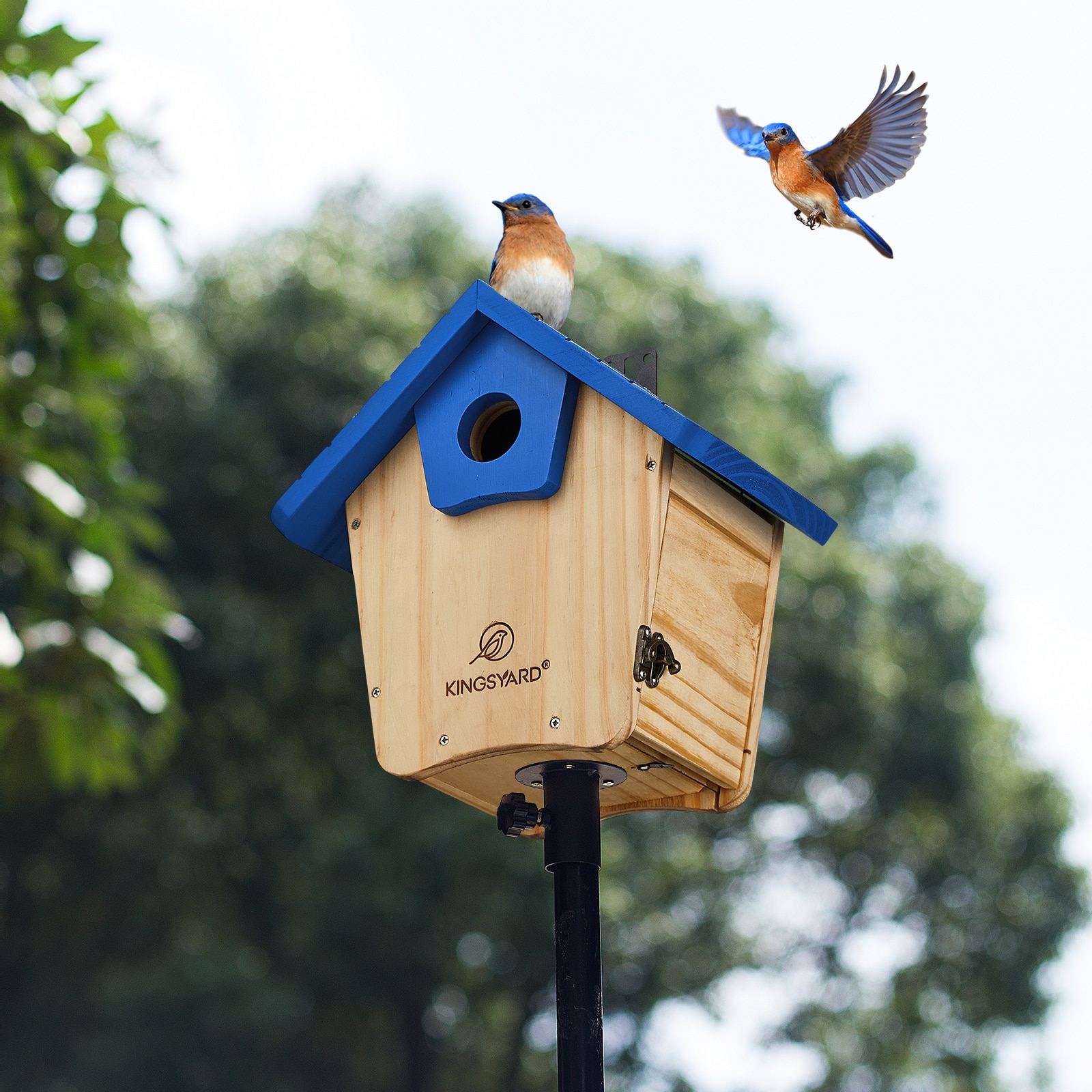 This birdhouse is special for bluebirds. This birdhouse is only made to attract bluebirds.
Bluebirds are not only captivating but also helpful for your garden since they control insects.
With this birdhouse, you'll increase your chances of bringing these beautiful birds to your yard. Here's why you'll love it:
Technical Specifications
Target Species: Bluebird
Material: Wood (New Zealand Pine)
Dimensions: 7.13 inches in diameter, 10.91 inches in width, and 11 inches in height
Weight: 3.44 pounds
Mounting Type: Hanging Mount
Premium Pine Wood
Don't doubt about these birdhouses because this is made from New Zealand Pine.
Its robust wood construction guarantees resilience against the elements, ensuring a long-lasting and secure home for your feathered visitors.
Optimal Ventilation
Proper ventilation is crucial for the health and comfort of the birds residing in the house.
This birdhouse features air vents that promote airflow, preventing the interior from becoming too hot or stuffy.
Easy Installation & Cleaning
This birdhouse is very easy to install and doesn't need to use much energy to clean it.
It comes with rust-free hardware for secure hanging, and the flush mount options make it easy to place wherever you prefer.
Cleaning is a breeze, ensuring the house remains a safe and hygienic environment for its occupants.
Predator Protection
Young birds are vulnerable to predators, but this birdhouse has you covered. Also, read our new post about "Best Wooden Birds Houses for Bluebirds"
It includes safety extensions that provide an added layer of protection, keeping nestlings safe from harm.
Clear Windows
The birdhouse features clear windows for the avid bird-watcher, allowing you to observe the activities inside without disturbing the birds.
It's like having your private bird-watching sanctuary.
Recommendation
Elevate your garden with this bluebird-attracting birdhouse.
It's durable, easy to clean, and perfect for bird enthusiasts wanting to enjoy these charming visitors up close.
2. Kingsyard Classic Bird House with Predator Guard $27.99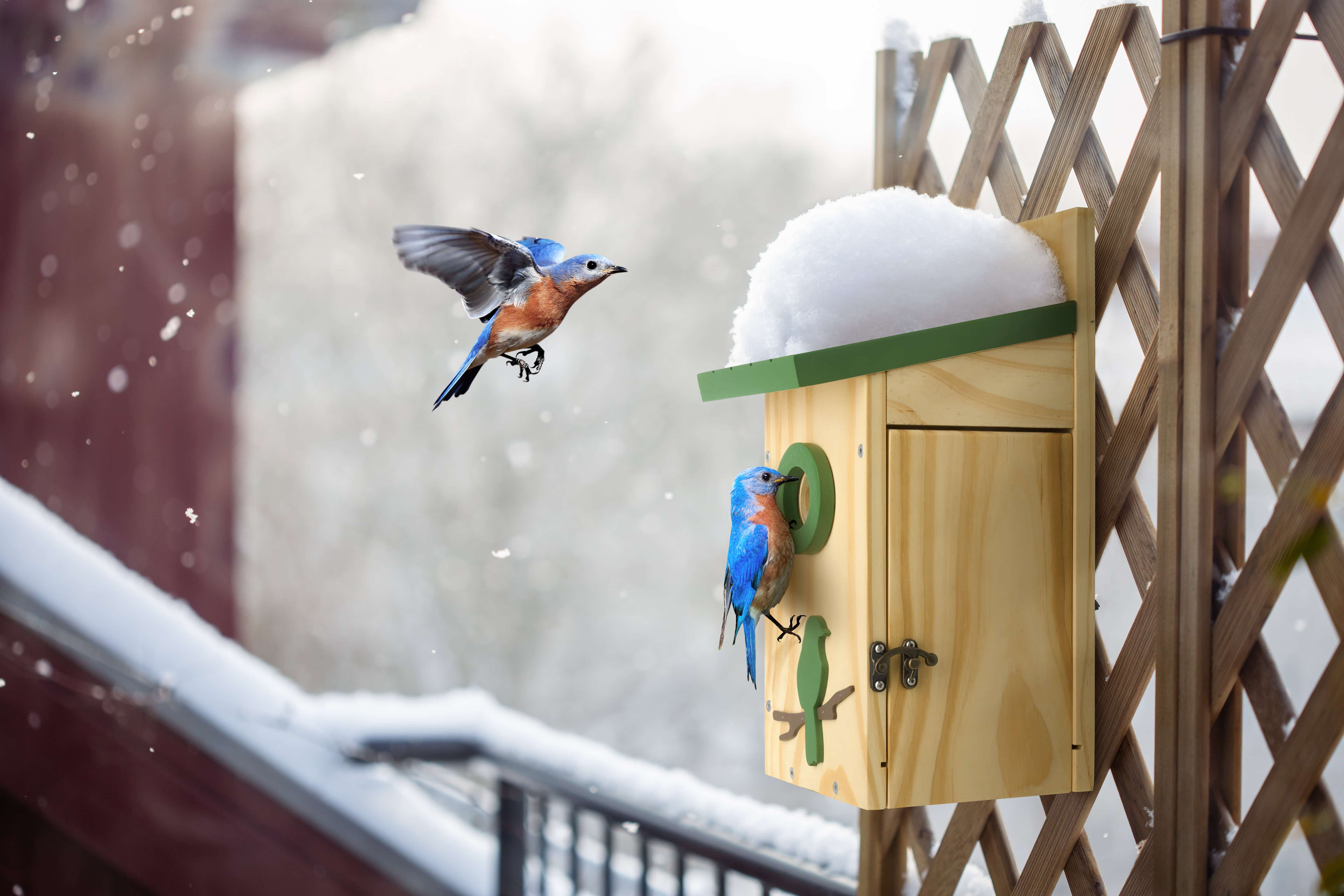 If you're a bird enthusiast eager to host a variety of feathered friends in your garden, this birdhouse is your ideal choice.
Designed to attract bluebirds, wrens, and chickadees, it's a versatile addition to any outdoor space. Here's why you'll love it:
Natural Wood Attractor
Crafted with thick walls made from premium New Zealand Pine, this birdhouse not only adds rustic charm but also guarantees durability, ensuring it stands strong against the elements.
Optimal Ventilation
Proper ventilation is essential for bird comfort, and this birdhouse delivers strategically placed air vents. Your avian guests will enjoy a cozy, well-ventilated home.
Easy Cleaning & Viewing
Cleaning and bird-watching are a breeze with the quick-access lid and crack-resistant window. You can observe your garden's lively inhabitants without causing any disruption.
Predator Protection
The safety of young birds is a top priority. This birdhouse includes safety extensions, providing an added layer of protection against potential predators.
Technical Details
Target Species: Bluebird
Materials: Wood and Metal
Dimensions: 6 inches in diameter, 5.51 inches in width, and 12.6 inches in height
Weight: 3.33 pounds
Mounting Type: Hanging Mount
Recommendation
Elevate your garden's charm and host a variety of birds with ease. This versatile birdhouse offers durability, easy maintenance, and safety for both novice and experienced bird lovers.
3. Kingsyard Recycled Plastic Bluebird House $39.99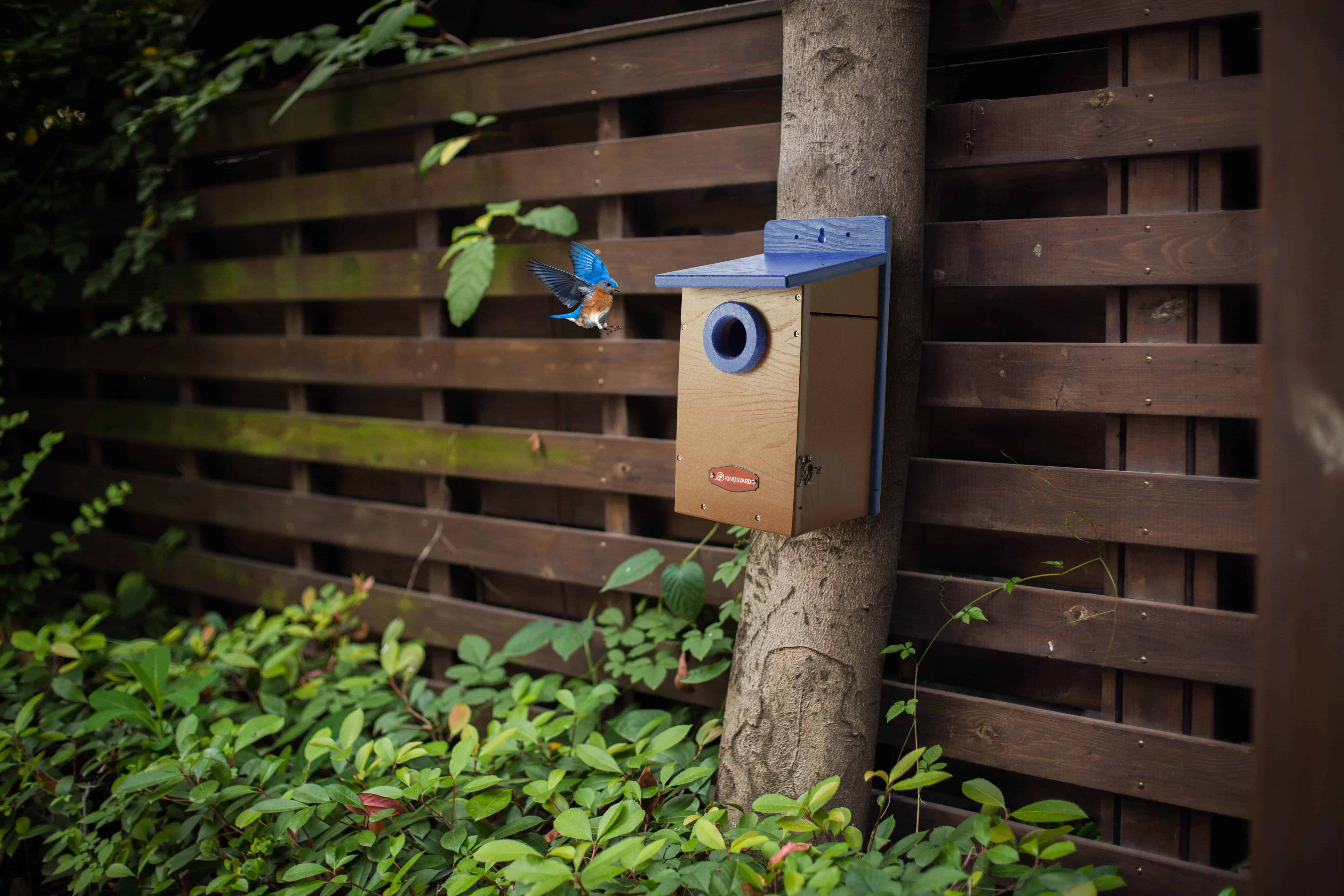 Are you ready to turn your garden, yard, or farm into an inviting retreat for vibrant bluebirds? Look no further! Our birdhouse isn't just a home; it's an experience.
Crafted with eco-consciousness in mind and designed exclusively by Kingsyard, it's the ultimate choice for avian enthusiasts. Here's why you'll love it:
Eco-Friendly Marvel
Crafted from recycled poly lumber, this birdhouse is more than just a shelter—it's a sustainable statement. Rest easy, knowing it won't crack, split, or fade, ensuring your feathered friends have a durable and eco-friendly abode.
Premium Sturdy Design
Kingsyard has poured its heart into this design, making it a premium choice for gardens, yards, and farms. It's not just a birdhouse; it's an elegant addition to your outdoor space.
Optimal Air Flow
Your birds' comfort is our priority. Our birdhouse features cleverly designed air vents, ensuring a cozy environment that's conducive to bird health and well-being.
Predator Protection
Safeguard young birds with the included safety extensions, while avid bird-watchers will appreciate the clear windows that provide a front-row seat to nature's wonders.
Easy Installation & Cleaning
We've made sure that setting up and maintaining your birdhouse is as easy as a breeze through the garden. No fuss, just pure enjoyment.
Target Species
This birdhouse is tailor-made for bluebirds, making it a magnetic choice for attracting these stunning creatures to your outdoor space.
Material
Crafted with care from recycled plastic, it's a testament to our commitment to sustainability.
Dimensions
At 6.3 inches in diameter, 7.6 inches in width, and 12.2 inches in height, it's the perfect size for your feathered guests.
Weight: A manageable 5.1 pounds ensures easy handling and installation.
Mounting Type: Hang it effortlessly to welcome your avian companions in style.
Recommendation
If you are not a fan of wooden birdhouses, then this "Kingsyard Recycled Plastic Bluebird House" is only for you. If you buy this, you will get more benefits than those 2 wooden birdhouses.
Conclusion
We include 3 wooden birdhouses that will attract bluebirds, wrens, and many birds in your garden.
We also have a plastic birdhouse that can make your backyard look more beautiful. I think most of the bird species love to live in wooden birdhouses.
You can buy these birdhouses at a comfortable price.
If you need more accessories like "bird feeders," "bird houses", etc., visit https://www.kingsyard.com/.